I made a comment to Jim last night that maybe we were boring people. He reminded me that just that morning we had Offles and Wamletes with our family followed by swimming and a BBQ, plus we have two rambunctious children and hope to someday add to it. Okay, maybe we aren't that boring.
It's that time of year again. When we celebrate yet another holiday by stuffing our faces with food. It's always yummy and filling and more fun with family around. I didn't take too many pictures but how many years in a row do you need to see a plate filled with an omelet, waffle and some hash browns, because this is our 7th year in this tradition? Seven years! That's awesome.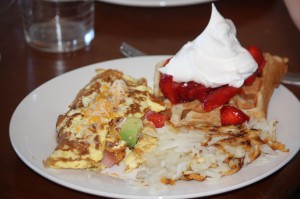 Jim double panned the omelet station while Lanette manned the waffles.
Holly and JD sat at their own table this year, thanks to a $20 craigslist purchase this past weekend. We were happy to have Steven attend since he missed the last two years. And next year there will be one more kid in the mix!