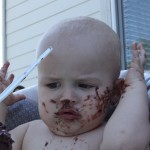 After 12 months, or three hundred sixty five days,
We all celebrate in our various ways,
Break out balloons, gifts, and streamers and hats,
Friend invitations, can't argue with that,
But the best scene of all, the b-day main attraction,
The time when everyone expects the action,
Is when the ole pastry gets put to the fire,
The frosting and filling, mouths full of desire,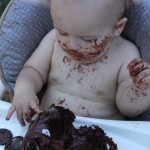 When song has been sung and the candles blown out,
We all gather around to see what it's about,
Will the one-year-old dive in and ravage and plunder?
Or will the day's tire steal the cake makers thunder?
The kids coyly touch the chocolate topping,
Sev'ral times pulling back and then starting then stopping,
The one takes a scoop and then yawning he passes,
His finger all over his nose and eyelashes,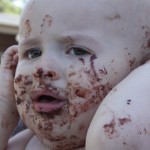 From the top of his cheek to back of his head,
Cocoa streaks like a gangster all pumped full of lead,
Not really concerned at all in consuming,
Very quickly exhausted with what he is doing,
The cake is an obstacle that only will keep,
His big one-year head from just falling asleep,
His sister is dainty, she makes none more progress,
Her right hand explores like a clever-clawed tigress,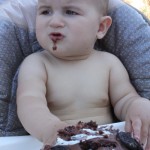 But the torte never makes it's way full to her mouth,
The right hand just chunks all the way down the south,
All the time never touching or soiling the rest,
With nary a crumb on her cheek or her chest,
As the lil' princess with the cake raking claw,
Lays waste the dessert, that's what we all saw,
Not too long thereafter, we all did agree,
It was time to give up, let the kiddies go free,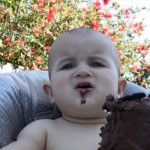 With a wipe of the cloth, maybe more for JD,
The event was now over, nothing more here to see,
What I'll say, in the end, of the birthday cake matter,
When excited to whip lots of chocolaty batter,
My word to the wise, cuppin' cakes is the tactic,
So kids don't leave parties so anticlimactic,
In the end there is nothing but love, hugs and kisses,
Happy birthday out there to all Bro-Bros and Sisses!