The week leading up to Easter we really wanted to focus on the real meaning of Easter. We read some scriptures verses of the Easter story. Though our intention was there we didn't quite make it the whole week, we will shoot for next year again! It was comforting to know that when we asked why we celebrated, Easter they could tell us!
Last year the kids had Easter pictures done with little chicks so I thought it would be fun to do something similar. My friend has a bunny and was happy to let us borrow the little guy for a little photo shoot. Holly loved him and JD wanted nothing to do with him.
The kids and I were invited to make peep houses with our little friends Friday. I think they had more fun eating the little decorations because it was more work for us moms! We had a fun time together.
Saturday morning the ward had the annual Easter egg breakfast and egg hunt. Breakfast was followed by the primary singing, "I Wonder When He Comes Again." Holly and JD stood in the front row and sang their little hearts out. I love when they sing primary songs, I usually have a little mommy moment when they do.
After Grandma got home from work we went and dyed Easter eggs and played a little hopscotch in the driveway. Watching almost 4 year olds learn how to play is really fun! Grandma's neighbor was having a party and there was a jumpy house for the kids. My kids were really envious and with Grandma's help got in! It made their day!
Easter morning the kids woke up to jelly beans in the silverware drawer and hidden baskets. Holly's was in the wine food storage and JD's was in the oven. They were so excited to find them and then to tell everyone where the Easter bunny hid them.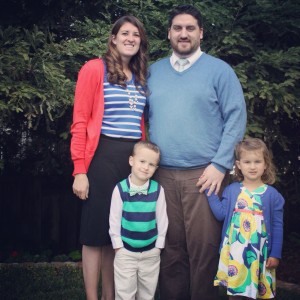 Church was wonderful as usual. Wonderful sacrament talks and I taught relief society. I'm grateful for my Savior, His sacrifice and resurrection that makes it possible for families to be together forever. I love being reminded of the gift He gave me, everyone.