Especially when it means that OGO gets to come visit us! The beginning of last month my dad came out and was able to stay with us for a few days and then do his work and come hang out with us in the evening.
Holly and JD were beyond excited to spend the weekend together. I know OGO was ready to be home after traveling for ten days, and then experiencing my crazy kids. They are calm sometimes but when people come visit they turn into crazy people. Okay so maybe that's not totally true but they are almost four so I guess that's normal. We were all sick and even sent OGO home with a sinus infection to match mine. I wanted to get out and do some fun touristy things but wasn't feelin up to it and my dad likes to shop so we ate out and shopped! I'm okay with that.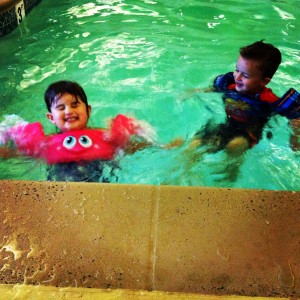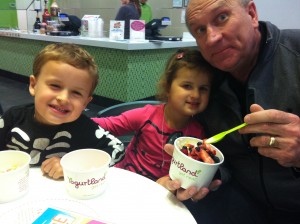 A trip to California calls for a In N Out visit. It was such a beautiful day that we ate outside. Either it was too bright or JD was not happy with getting his picture taken.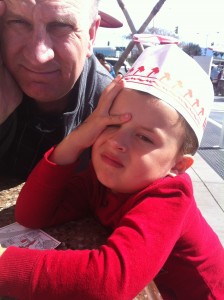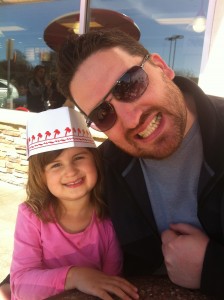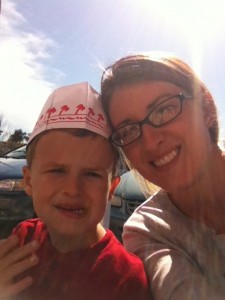 The next day we headed to the Vacaville outlets for more shopping and more food. We just love Sonic, mostly for their drinks. The sun was still shining and we enjoyed being outside with each other. Holly and JD both fell asleep on the way home and I couldn't resist taking pictures.
The last time my dad was here we had stake conference up at the temple and this time we had a special stake conference and he was able to join us this time too. Elder Cook came to speak to us and gave us an apostolic blessing. It was really neat to see him shake hands with everyone afterwards too. Holly and JD were thrilled to have their picture taken as you can see.
We can't wait for OGO to come back and visit. Next time he better bring Grandma though, per Holly's request!