Every year Jim goes to Las Vegas for CES, leaving us for a whole week. This year we were able to fly to Virginia, thanks to my dad's frequent flyer miles, to see my family. It was just me and the kids. I was looking forward to the adventure of flying with my kids and thought it would be easy peasy.
The day we left it was an early morning so the kids only had some milk to drink and some dry cereal. Holly gets motion sick and proved it when we pulled into parking garage at the airport when she barfed. We changed her shirt and we were good to go. It was especially nice to have Jim come to the gate to see us off. The kids pulled their own suitcases, which they loved doing, but in the end was kind of a hassle. No one in the airport cares about cute little three year olds pulling cute Spiderman and princess suitcases. The flight was uneventful until it was time to land. JD was gripping my right arm while Holly was puking into the barf bag. Luckily it was a clean experience and she was happy and ready for the next short flight. Needless to say it was a wonderful sight to see my family waiting for us at the end of the hallway in Richmond!
The kids were most excited about seeing Grandma and OGO and opening their Christmas presents. Holly especially loved her new princess dress and danced the night away. She had the dress on first thing the next morning.
Sunday was Holly and JD's first day in sunbeams and they were a little apprehensive and excited to be with their cousin Taylor. Unfortunately they had two different classes and Taylor's class was already full so they went in a class where they didn't know anyone. I sat behind them during sharing time and then walked them to their class. I had little tears in my eyes as they sang "I am a Child of God" and stood to participate in the other songs. The kids were so excited when during sharing time they showed the Mormon Message video of "I am a Child of God." It's their favorite!!
It was fun being with my family and watching the kids play and sometimes fight with each other. We learned to not intervene all the time and they were okay. The weather was not too cold at all so they were able to play outside too. Uncle Matt helped JD do his hair on Sunday morning with his gel and so one day while Matt was at school JD wanted to do his own hair. I had to laugh and the amount of gel he used. As he was rubbing his head he said, "this is amazing!" Funny boy!
Most everyday we watched my sister's 9 month old Chloe. I don't think I heard her cry more than a few times. She smiled and played and I even taught her 'So Big.' She wasn't really catching on until the last day when my sister said it and she raised both arms in the air. I was a proud aunt! It was just fun having everyone around.
Grandma took me and the three amigos to the Richmond Children's Museum. It was so awesome and the kids could've stayed their all day long. There was so much for them to do. I especially loved how open and clean it was. The museum even had a carousel in the middle of it and of course we rode it! Holly is still talking about it.
My crazy teenage brother taught the littles the Haka dance a couple times. My kids were doing their own Haka when we got home from Virginia. Made Uncle Matt proud.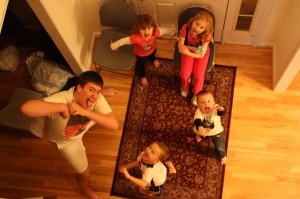 I love my family so much and wish I lived closer. Maybe one day.